Dave and Michele's Mystery Montreal Trip!!!
Wednesday

I planned a trip for my girlfriend about 10 months in advance, without telling her where we were going. I only revealed the location in the airport on Wednesday morning just before boarding our flight.



The reveal photo!

Thursday

Upon arriving in Montreal…

We bought a 3 day museum/metro pass for $45, which gave us access to the Biodome, the Botanical Gardens, and the Insectarium, and just about until the sun went down, it was manageably cold.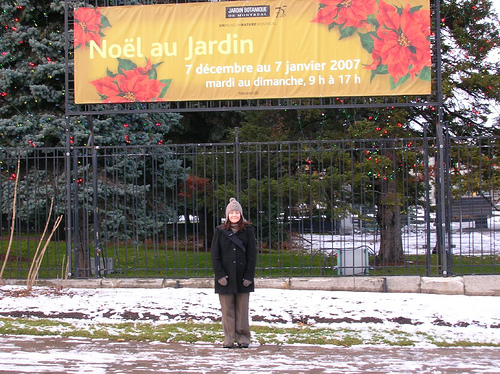 I am a gold medal Olympic Keyboardist.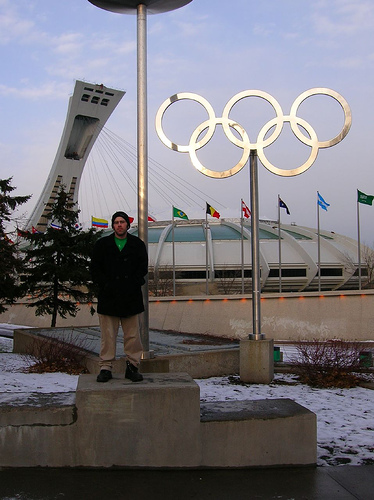 We took the metro to the Biodome, at the Olympic Stadium where the Expos played up until 2 years ago when they moved to D.C. The Biodome is basically an indoor zoo, with 4 climate zones all regulated--a tropical, a forest, Canadian wilderness, a polar area. We went through in about an hour, then walked to the Gardens--a series of greenhouses where a nice man took us on an impromptu tour and we learned about begonias and cacti and bonsai--his enthusiasm really augmented the experience. At the Insectarium (part of the garden package) a little kid sat and watched "Le Scorpion" under a black light and I kept checking back to see if he'd finished. I learned a lot about bugs, and about the influence insects have had over architecture.

Then we went to see holiday lights.


Friday

We went to Old Montreal and saw the Basilica, and the Archaeological Museum--which scared the shit out of both of us, with all the holograms and the role-playing. We weren't there for long.



The Basilica is all about Jesus.
Saturday

Today we went to Eggspectations for a really good breakfast, then I set about getting us hockey tickets for tonight, for a game I already knew to be sold out. It started with me asking the concierge, who set about the task, and then in our travels, we attempted to ask at the tourism centre, to no avail. I went back to the hotel by myself (both to check on the tickets and to affirm our time of departure tomorrow) letting Michele shop. From there the concierge said he could find some for $70 each. I waited a few minutes and then he said he could only get tickets for $100, way out of what we considered reasonable (not that 70 is cheap, but I would swing it just for the thrill of seeing live hockey in Canada!). I said, okay, but no thanks. I walked to the elevator, just missing the one that was on its way down, and I waited for the next one. A minute later, the concierge said "Mr. Cookson!" and summoned me back. "I found two for 70!" Great, I thought. If I had been faster and caught the first elevator, I would have totally missed this. I tipped him for his effort and felt the joy of four star hotel service.

We went to the Contemporary Art Museum and ran into an acquaintance of friends from home, truly proving that sometimes, there is no escape from people you know.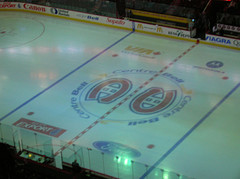 I drank Molson Dry at the Canadiens game. Molson Dry is 5.5 percent alcohol, dwarfing my usual brew, the National Bohemian. Suffice it to say, having a total of, oh, I don't know, 7 wasn't such a good thing for me.

Anyway…

At the Bell Centre, along with 21 thousand rabid fans, we saw a good game between Montreal and the Buffalo Sabres, which the Sabres won 3-2 after an overtime and a shootout. Canadian Hockey…the fans don't need some stupid scoreboard to tell them when to cheer, people speak French but yell their curses in English (when Buffalo got close to the net, the guy next to us screamed "Fuck You!") And they are more than a little scary.

Sunday

Going Home
Last May I went on a trip to Las Vegas with my friends for a bachelor party, which was the trip where I decided that I would never fly unless it could be a direct flight. Unfortunately, I booked this Mystery Montreal trip before I made this decision, and we spent all day Sunday getting from there to here. Me, sick as fuck, and realizing that no, it was not a hangover but some kind of bug (that kept me home from work for the first time in like, forever) and on this odyssey that kept us sitting at JFK for over 3 hours. Then our connection flight was a plane with propellers (wait for it): I was wondering when the Wright Brothers were coming to fly it. (Thank you very much.) The flight attendant made snarky comments about passengers, some guy who didn't speak English very well thought he was headed to Miami and missed his plane, and my Girl and I, with me conked out against the window, trying to keep in good humor but kicking the me of 9 months ago for putting us through this crap for what is only supposed to be a 2 hour flight but what turned out to be an 8 hour odyssey.

I am only now starting to recover from the illness. I don't get sick very often but when I do, it's usually a dandy. Luckily I recover quickly.
I bought this shirt.


END
Back to Davey G and the Keyboard Home